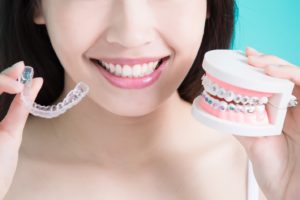 Are you thinking about straightening your teeth? One of the first things you have to decide is whether you are more interested in traditional braces or clear aligners. Both options have some major advantages, and both have a few drawbacks. In this blog post, we'll discuss clear aligners vs. braces so you can become familiar with some of the pros and cons and make a well-informed decision about which one is right for you.
Effectiveness
Both types of treatments are able to address a wide range of cases. However, clear aligners are usually reserved for mild to moderate misalignment, whereas braces are more versatile and can address even severe orthodontic issues. If you need to start out with braces, your orthodontist might tell you that it would be possible to switch to clear aligners partway through your treatment.
Appearance
The discreet appearance of clear aligners appeals to many patients, especially those who want to maintain a professional look. However, the aligners are not totally invisible. They won't be the first thing other people notice about your smile, but others will see your aligners if they get close enough. Braces, on the other hand, call a lot more attention to themselves.
Convenience
Clear aligners are removable, so they allow patients to use normal oral hygiene techniques and enjoy freedom from dietary restrictions. It may take a bit more of an adjustment period to learn to live with braces because they require some modifications to both your oral hygiene routine and eating habits. However, braces come with their own major convenience point. Because they are attached to the teeth, you will never have to worry about forgetting to wear them. Clear aligners must be worn 22 hours out of every 24 hour day to move teeth effectively and predictably.
Comfort
Any appliance that moves teeth will cause some mild discomfort. However, braces and clear aligners may feel quite different in the mouth. Aligners are made out of smooth, high-quality plastics, which cause minimal irritation to your cheeks, lips and tongue. Some people find that the brackets and wires of traditional braces are a bit uncomfortable, though modern braces are much easier to wear than they were decades ago.
Price
The price of both types of treatment depends on numerous factors, such as the severity of your misalignment, whether you need any extra accessories, and your orthodontist's pricing structure. Generally speaking, metal braces tend to have a slightly lower price point.
Making Your Decision
There is certainly a lot to think about when it comes to clear aligners vs. braces. If you aren't sure which one appeals to you more, your orthodontist will be happy to give you a recommendation when you attend your consultation. Hopefully, you will soon be on your way to the straight, healthy smile that you have always wanted!
Meet the Practice
Dr. Ben Youel and the team at Grayslake Orthodontics are proud to provide traditional braces as well as multiple types of clear aligners. We welcome even complex cases, and we offer flexible payment options for budget-conscious patients. To learn more about us and how we may be able to serve you, contact us at 847-548-4330.